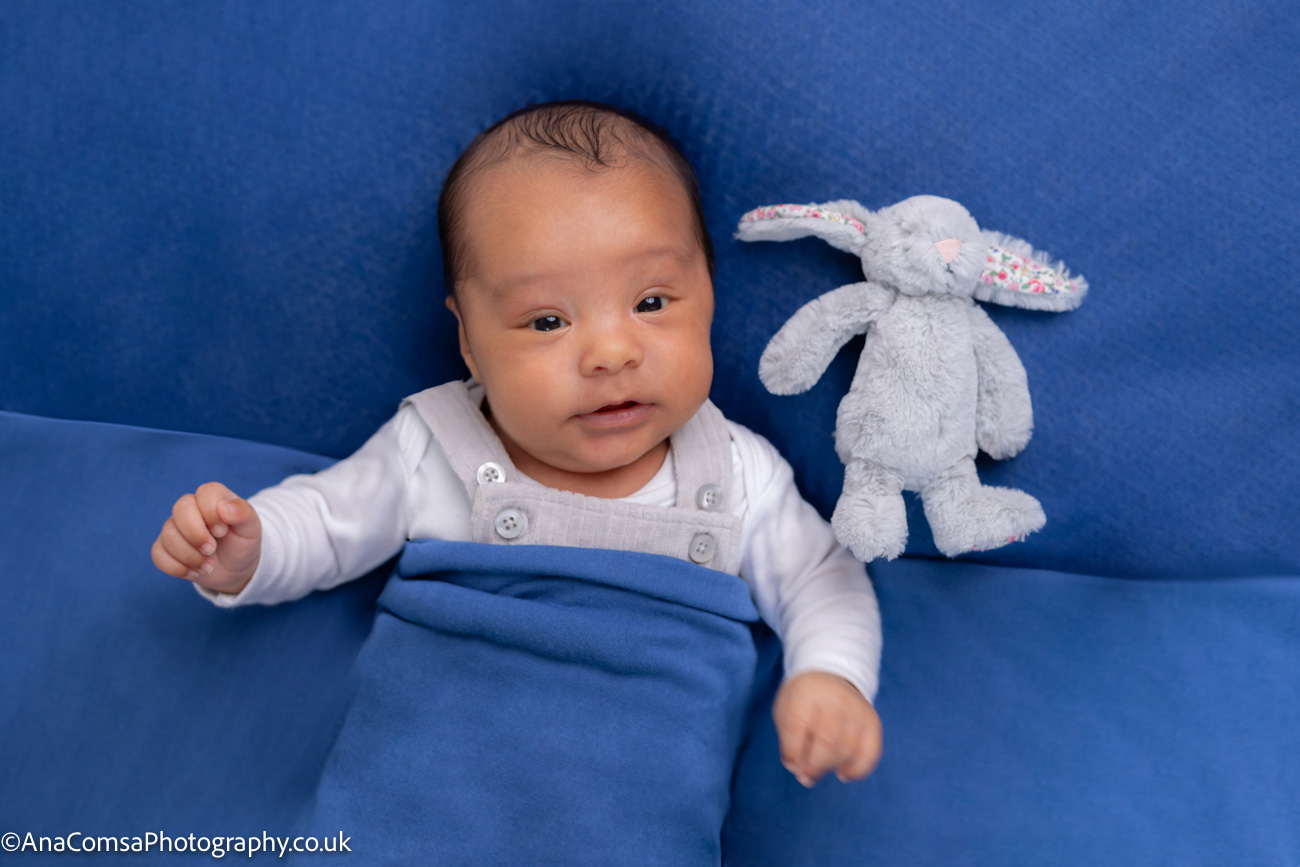 How to take your newborn photos at home
Create your at-home newborn session during a pandemic
If you have recently welcomed your baby into the world… CONGRATULATIONS!
Now, if you are here, chances are that you have thought (or maybe booked) a newborn session and then… lockdown!

If that's the case, I've got your back!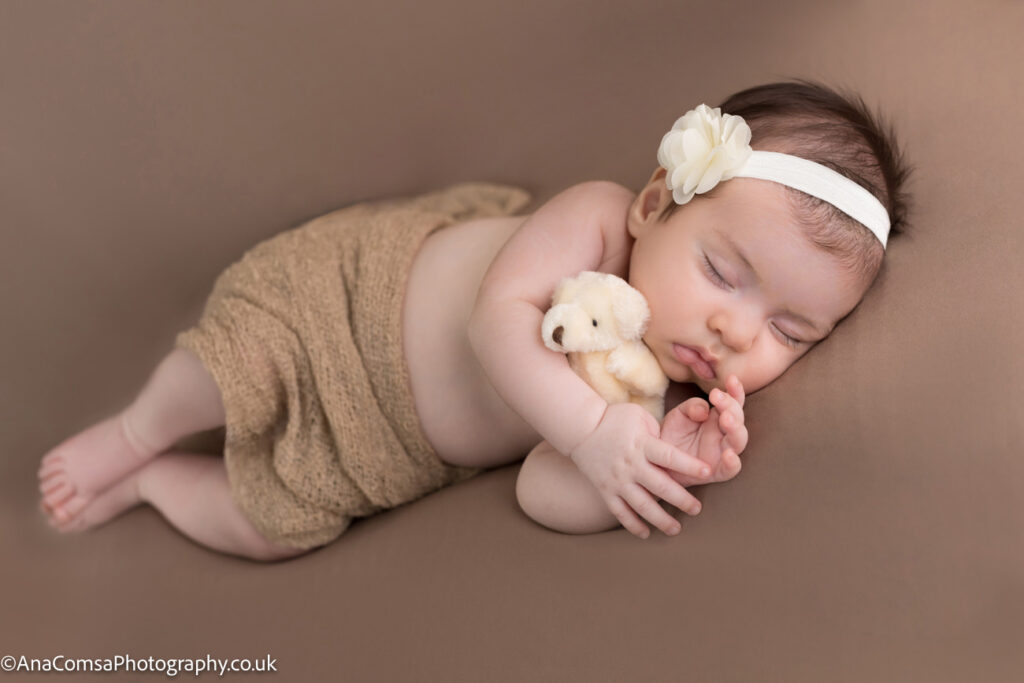 This guide on how to take newborn photos at home includes my best tips on creating your own Newborn Photos at-home during a pandemic, if photography studios are closed, or you are too anxious to book your newborn session while the virus is still circulating around.
My name is Ana and I run Ana Comsa Photography Studio, specialised in newborn, baby and family photography. 
Your newborn photos at home: step-by-step guide
Start by getting familiar with your smartphone settings so that when you take the photos you can focus on your baby's safety, and not on how to do the settings properly.
There are tons of tutorials on YouTube giving tips on how to use your smartphone to create professional looking images. Clean your lens.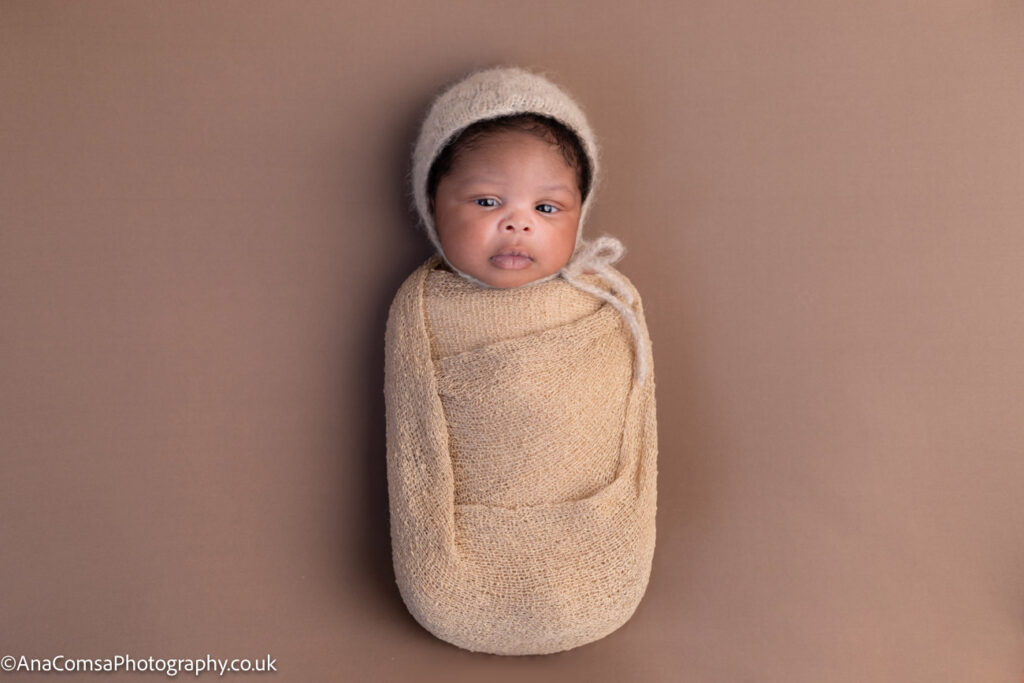 Select the portrait option to avoid to much distortion and to be able to capture lovely details like the baby's angel face, their little fingers and toes, explore different angles for example top, side or close up. Watch this tutorial for more tips.

2. Find the best lit area of your house, usually next to a big window with natural light place close to that window, a comfortable sofa, or an ottoman longer that 1 meter to ensure the baby is safe during the session.

Newborns have what is called the "startle reflex" and they can suddenly move and fall simply because a noise or a movement has startled them.
 3. Next, look on Pinterest or my Facebook Page for styling and colour ideas: for clothing, all you need is a blanket and your baby's favourite outfit, a lovely headband for girls or a cute matching hat for boys.

Looking at these photos you will probably see that very often the baby is swaddled in a fabric wrap of a specific colour. While achieving the wrapping you see in professional photos require training, a great alternative is to wrap your little one cozy in your favourite blanket or use the blanket as a background and to keep the baby comfortable.
If you do not have experience in using props in photos, better keep things simple and elegant. Use very few colours, for example neutral ones like white, beige or brown. Avoid big prints and logos that might distract the attention. Less is more.
4. Ask one person to assist you during the session. Having someone to help you is important because the baby should never be left unattended at any time and someone should always be at an arm's length from the baby, while you can explore better angles for the photos. For example take pictures from the top: from a side or the other or from close up.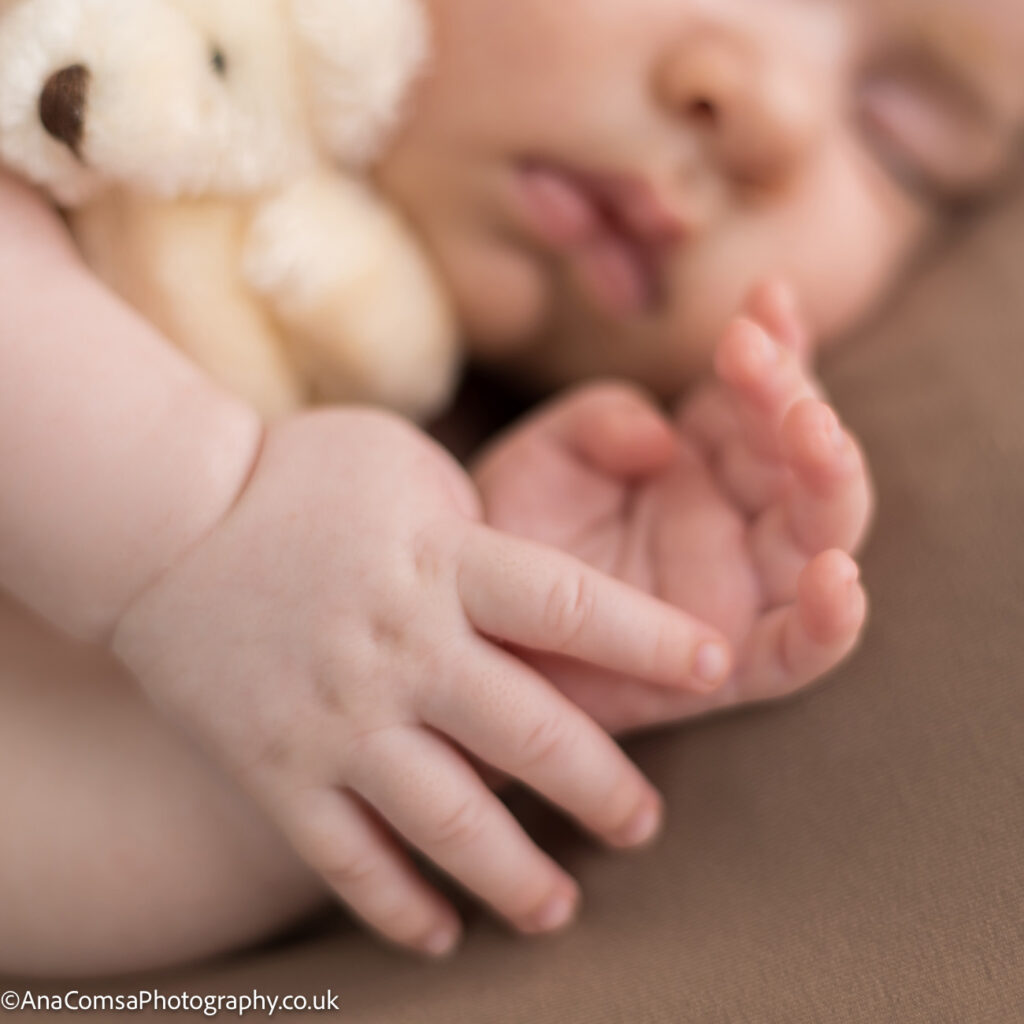 When taking pictures from the top make sure you hold your phone well to avoid dropping it on the baby. 
Feeding and wrapping
Feed the baby and wrap him/ her in your preferred colour wrap. Wait for the baby to fall asleep and place him or her on the comfortable surface, safely, and close to the natural light source. Ask for the person who will assist you to stay close to the baby. Add any props you like, as long as is safe for the baby.
If you decide to place the baby in a basket or box for example, make sure you place at the bottom of it a weight that will counter balance the weight of the baby and the box/ basket does not roll over during the shoot. Cover the weights with soft fabrics that also support the back and head of the baby when placed there.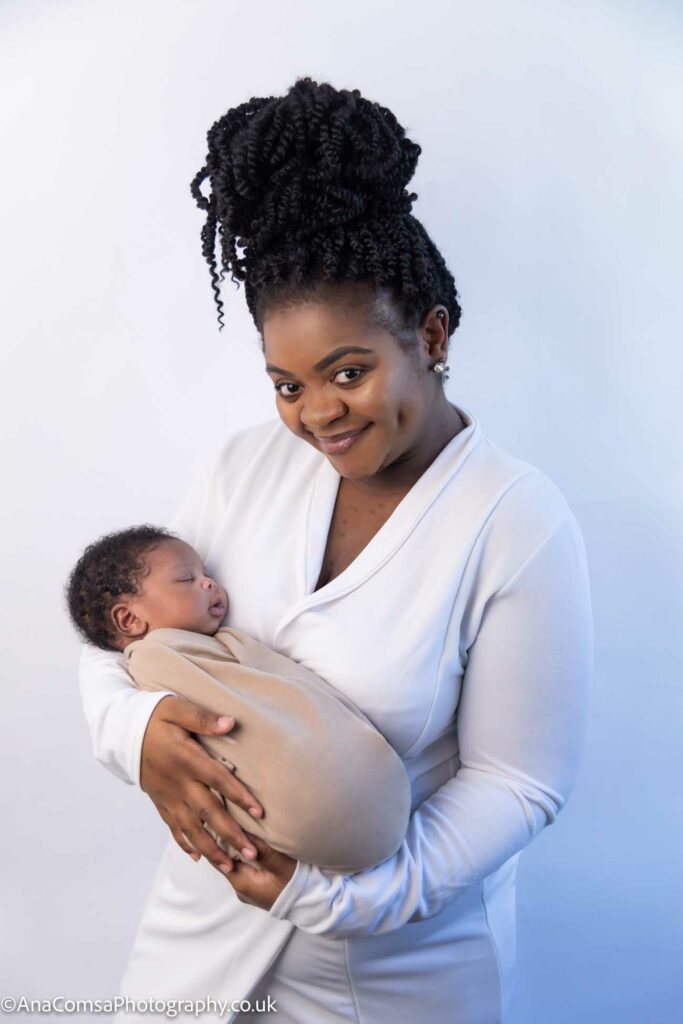 Parent poses
It is more complex to take parent images at home, however, you certainly want a couple of shots together with your little bundle of joy!
Here are 3 tips to get some of these photos at home:
1) Capture candid moments or your partner interacting naturally with the baby
2) Take a selfie with all three of you close together, close to a window, for beautiful lighting, or ask another person to take the picture for you. For a background try to use a simple white wall.
3) Ask your partner/ husband to take a picture with you and the baby. 
Room temperature
Constantly check the room temperature. It should be around 22 to 25 degrees if the baby is dressed.

As a mum, you know your baby best so you will be able to instantly understand if he or she is too hot or cold, for example if their breathing rate increases.
Be patient and change baby into new clothing to create a new style, use cute headbands for babies, or tiny hats for boys for example. These are very precious moments you definitely want to capture and keep forever.
In conclusion
Some of the poses you have seen in professional photos might be hard to achieve at home, but by focusing on the basics and using what you already have (hats, blankets…) you can take some cute images that will help you remember these days forever.
Is your baby not here yet?

Then you can still contact me about my newborn sessions and get the full experience at my studio.
For more info (or inspiration for your at-home session) check my Facebook Page